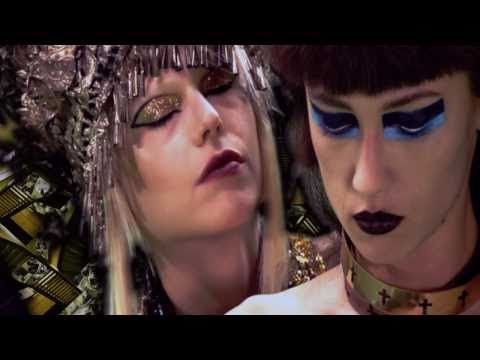 Film by Christian Neuman. Photography by James Martin. Styling by Masha Mombelli (assisted by Kumiko Yashiro and Jeff Yiu). Makeup by Thomas courtesy of Shu Uemura. Hair by Tim Furssedonn and Andrew courtesy of Toni&Guy. Featuring models Kathleen from Premier and Elina from Profile. Music by Plankton Waves
Designer names: Chris Neuman and Virginia Ferreira
Origin: Chris is from Luxembourg and Virginia hails from Argentina.
Career highlight: "When Mario Testino approached us last season to tell us he loves our dresses. Our AW10 show during London Fashion Week was also a highlight."
Design background: Virginia studied at London College of Fashion. She has worked previously at Zandra Rhodes and Ballantyne. Chris studied at London Film School (M.A Film) as well as his BA in Design at Carnegie Mellon University School of Arts, Pittsburgh and the University of Applied Sciences.
Design signatures: "Striking statement digital prints and strong, structured silhouettes."
How would you describe the Belle Sauvage woman? "Confident, with a strong sense of style and an outstanding personality."
Name three things that are inspiring you for spring/summer 2011:"New brutalism, abstract expressionism in modern painting and Czech glass beads."
What is your brand philosophy? "Our philosophy is to combine avant-garde silhouettes with original signature prints. Our mission is to combine fine arts, film and fashion. Belle Sauvage's vision embodies a complete picture of the modern, sophisticated, yet very feminine woman."
How do you see the brand moving forward and developing?"Strengthening established sales and distribution contact. We'd like to show on schedule at London Fashion Week within the next two seasons."
What's new for you this season? "We have given an extra dimension and texture to our signature digital prints. We are also introducing handbags; we are presenting an accessories line independently"
SOURCE: INTERVIEW BOROWED FROM LONDON FASHION WEEK'S HOMEPAGE!!!