11:16 am
Vinnie Who: Q&A on FASHION
Exclusively Q&A on FASHION – with musician Niels Bagge Hansen from the Danish band VINNIE WHO. Monday 30th VINNIE WHO is releasing a long waited 1st album , called "Then I met you". I am a big fan of his music, which has a unique disko-house sound, which I love to listen & dance too! I also booked him as a DJ for one of my RUSKI bar party for over 1 year ago, where the dance floor went bananas! Niels is an interesting creature, so I asked him a few questions about his relation to fashion. One of the next days, I will release a VINNIE WHO album competition – so read carefully to have a change to WIN-  Enjoy!
How much thought do you put into your image on and off stage?
In general I consider myself pretty aware of how I look. I like to go shopping and buy new things for my way too crowded locker at home, even though I don't have any money. There is a difference between my everyday style and what I'm wearing on stage though. On stage I like to dress up a bit, like using a bowtie, make-up and so on. I think that it sort of helps me to stay in the performing character.
What are you inspired by, style wise?
Many things, I guess. It changes a lot, but recently I'm very much into some kind of English boarding school style like classy brands as in Fred Perry, Polo Ralph Lauren and so on.
I'm also into the more trashy, drug addict, "I don't care" look. That's cool, I think. After seeing the film Trainspotting with Ewan McGregor (now many years ago) the first thing I did was shaving my head! Today I still love that look.
I've always been very fond of the good old wedding outfit, like black suit, white shirt and some kind of thing around the neck. That's an evergreen, and also fun to wear, because you rarely get the chance during your everyday life J. When all comes to all I believe that my style-reference depends on the mood I'm in.
What is your favorite item?
I used to have some necklaces in the past, which I had a very special relationship to, but they never held for more than one year before I threw one away. So I totally gave up on that, even though I love the idea of having an item that you just have to wear every day, because it really means something to you.
So now I feel like I'm kind of obliged to say bowtie J
What is your next purchase?
I'm saving money for a new computer, and I'm not allowed to buy anything before that… being hard on myself these days…
Where do you do your shopping?
Around Copenhagen K. I usually just do the same stops every time.  I start walking down Købmagergade stopping by Flying a, Whyred, Acne. Then it's Coz and H&M, Illum, Peder & Stoffer and at last all of the second hand shops around pisserenden. I went to New York this winter and Copenhagen will never be the same again.
Have you got a fashion faux pas?
What's that?!
What's your favorite brand?
Don't have any.
How does your dream girl dress like?
I think she should dress actually the way she wants to, so it fits her personality. Then you know that you've got a girl who believes in herself and has grit, which is basically what I'm looking for.
What is your fashion faux pas for girls?
Hmmmmm, don't do drugs!
Where do you see yourself ten years from now?
I'm all around making and playing music hopefully.
And the final question, what song from the new album "Then I met you", is your own personal favorite song?
That's a very hard one! It's more or less the same as asking me who of my brothers I like the most. All the songs are great! At the time I'm listening a lot to the one called "Feel It".
Teaser, which illustrate his style!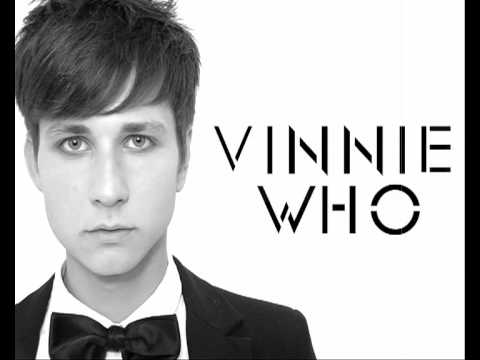 Listen to the sound of VINNIE WHO's new album "Then I met you"